Day 283 Sewing, attending end of school year activities and more sewing. Trying to fit blogging in but some days it just gets away with me and unless I grow 4 more hands or clone myself I just need to spend the time working on sewing or with my family. Choices, choices and if blogging get the short end of the stick, so be it.
Today I chose Molly Weasley as my 'Mad Scientist' because she is one of the greatest, most loving, fiercely protective moms I have seen in literature. And because when I was cleaning and purging a bucket of craft supplies this weekend I happened upon a broken wooden square clock which I am going to make into our own version of a the Weasley's clock~don't we all wish we had one?
Here's a guy
who is really attempting to make a version of it using social media~I forsee something like this being a very possible part of the future tech frontier!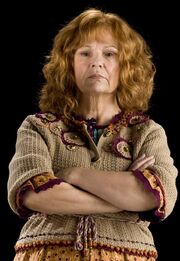 Image from HarryPotter.wikia.com
These are my favorite clothes I worked on these past few weeks for LoveLight Boutique to use in a couple of fashion shows.
There were a few end of year field trips. This Bullfrog was like a foot long~crazy.
And water polo games. My oldest was in the high school State tournament this weekend and their team of 8 got 2nd~exciting stuff!
Ok gotta get back to it...what will you create today?